CLARITY AND ENERGY
A weekend retreat to get anchored
Fri 12th – Mon 15th August 2022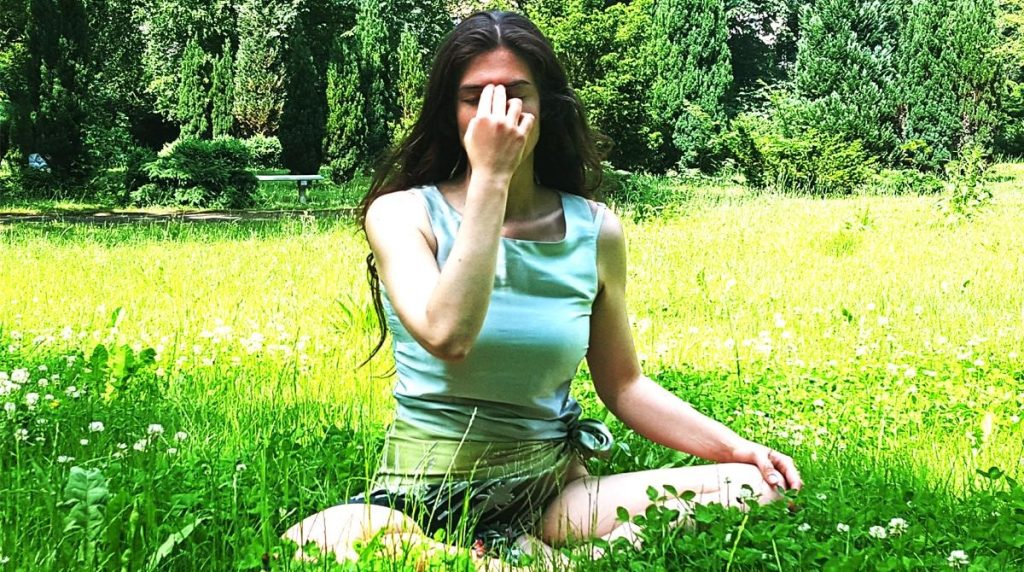 Synopsis
DATES: From Friday 12th to Monday 15th August.
LOCATION: Burgkemnitz Castle.
PRICE:  360€, includes food, accommodation and practice.
Discover the most effective methods of classical Tantra and traditional Yoga. Three days of silence and practice, including asana and pranayama, energy work, intense concentration and deep relaxation; tantric meditation, mantra, karma yoga and more.
The very definition of self-work. Specially designed to make you strong for the months ahead.
Three days that will blow your mind.
WHO IS IT FOR?
This retreat is for people who want more out of life.
Are you ready to work with yourself? To step beyond philosophy and talking, into the silent practice of transformative methods? Do you demand a compelling toolbox that allows you to cultivate an extraordinary life?
If you want to move from a dull material experience into the magical world of spiritual transformation;
If you have been practicing conventional yoga and wish to discover the wholistic path of traditional Yoga, with its amazing breathing techniques, meditations and energy work;
If you have been dabbling in neotantra and want to find-out how classical Tantra can truly expand your sexuality as well as your mind and your whole life;
If you have been learning isolated techniques here and there, and long for a comprehensive system that addresses the entire human frame;
If you are tired of new modalities and experimental approaches that may or may not work, and are ready for a time-tested path than has proven effective for thousands of people through the ages;
Then this retreat is for you!
WHAT WAS SAID OF OUR LAST RETREAT
"I am more connected to myself than I have ever been before. I am able to observe my emotions, acknowledge them, and move on with my actions, not letting the emotions control the actions themselves. I am able to make difficult choices with relative ease. I am also able to not let the emotions of those around me over-run my own senses. I had several meaningful realisations during the practices, which give me greater clarity in life and what I shall do with my future." —Crea
"I feel inspired and motivated! I have more clarity about what gives me joy and strength and about the actions I can take now towards that. I feel the power to create, which gives me so much energy and naturalness. I am calmer and more trusting in my approach towards what is. I feel grounded, as if growing stronger roots and expanding this ancient trunk collecting power and freedom to bloom." —Gaia Starseed
"I feel I have a clarity boost and am way more connected to myself. I hope so much I can hold this connection. Forgiveness and trust were somehow the main issues during my trip. It's so magical how it happened, without any planning! The body seems to have an enormous power of self healing - if we let it lead the process. I feel more one and more myself than ever. As if all my puzzle pieces finally came together again. Cannot tell you how grateful I am." —Patient Eagle
"This retreat gave me the ability to think in new ways. To actually see what I'm doing, step backwards, sideways, and try something new. I learned, and experienced, that I choose to put myself in suffering. Do I do this often? Is every shit state auto induced, I just take a breath? Wake up? Feel the serenity? Practice stillness. I practiced watching my thoughts go by as clouds, to not attach. A kind guiding voice led us through many states, to pure, hallucinatory relaxation, to Pratyahara, I've heard the word, but now I learned a practice." —Forest
"I still feel the good benefits, yes. The first day after was strong!! I feel more alive; calmer. I feel something like a deeper trust in life. I feel you showed us how to reconnect with our bodies. And to connect with the breath is something so crazily beautiful and exciting and powerful. I really wish and hope I continue with it. " —Kara
"I feel much calmer and trusting. When an unexpected situation arrives, I welcome it with more curiosity than anxiety and have a feeling that everything will/is working out just fine. I also feel my personal energy is on higher vibration, which attracts others." —Wolf Woman
"I am still in an after balloon, like after a big psychedelic trip experience. My thoughts, my eyes, my heart, my ears are swimming in an oily material that smooths out the surrounding world and makes everything sweet around me. I am able to love more and I see I am being loved more. I also see with more clarity what is feeding my soul and what is draining it out." —Naranga
"I feel like I have more space inside of myself. There's more stillness and relaxation, even in stressful situations. On the physical level, I made a huge jump over the weekend. I feel strong and flexible. Also, I enjoy my practice much more than before. Yesterday I wanted to practice for half an hour, and ended-up with a one and a half hour practice, because it was so enjoyable. Thank you so so much for this weekend!" — Brutus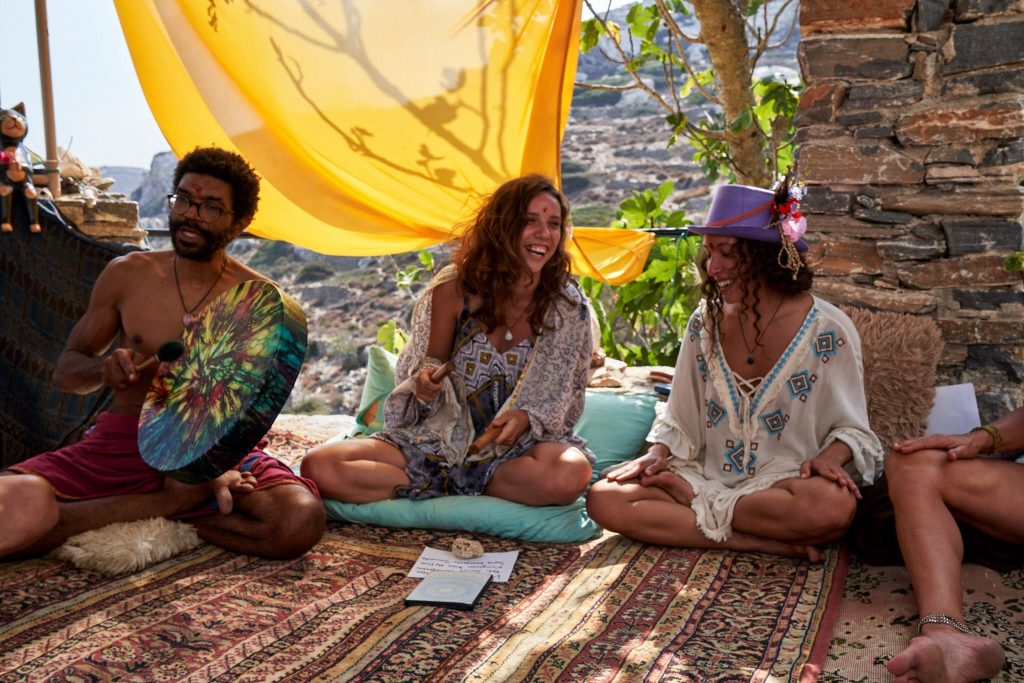 WHAT DO YOU GET FROM THIS RETREAT?
Change your life with an effective Sadhana that will carry you as far as you wish to go on the spiritual path.
Learn to elegantly dance with anything that life throws at you.
Grow self-love and self-acceptance.
Become confident and self-reliant.
Develop clarity and laser-like focus.
Explode your physical and mental energy.
Get grounded, strong and directed.
Deepen your relationships and defeat social anxiety.
Expand your creativity.
Cultivate an enthusiastic and engaged attitude.
Turn any work you do into an uplifting experience.
Manage your moods and harmonise your emotions.
Improve your sex life.
Gain a deeper insight into yourself.
Strengthen your willpower.
Turn your life into a work of art.
In short, become the captain of the ship of your life.
The Methods you will learn
Shatkarma
Remove impurities and bring balance to your body through the powerful cleansing methods of traditional yoga. Techniques that affect all the body's systems and kick-start their function. This is effectively a reset of your physical self.
Asana
In traditional Yoga, the physical poses work deeper than at the mere muscular level, and do more than just making you strong and flexible. The way we do them, these poses massage the endocrine glands and the internal organs, stimulate the spine and the central nervous system, and affect the movement of fluids and energy throughout the body.
Pranayama
Remove finer tensions and harmonise your nervous system. The yogic breathing exercises are a bridge between grosser and finer layers of your being; between body and mind. They make your clearer and mentally stronger, and allow you to discover and experience Prana, your life force.
Bandha and Mudra
When you remove tensions through asana and pranayama, you gain access to previously lost energy. In order for this energy to be experienced and directed in a useful way, we use Bandha and Mudra, special physical contractions and gestures that touch the endocrine system and other important areas of the body. They influence your state of mind and level of activity, while bringing consciousness and energy to the different parts of your self.
Kundalini Yoga
What is usually called Kundalini Yoga was developed in the 1970s by a Sikh entrepreneur. It has nothing to do with the ancient Tantric science to awaken and control your life force and discover the chakra. Tantric Kundalini Yoga is an elegant and precise science that will impact all aspects of your life.
Mantra
The ancient tantrics developed the science of sound to its highest expression. Mantras are special vibrations that permeate your physical, energetic and mental selves, bringing you into deeper states of consciousness and allowing your dormant powers to awaken.
Karma Yoga
The science of action. How to relate to work and productive activity so that it energises rather than depletes you? How to approach everything you do like a meditation and a process of self-knowledge. When you discover the secrets of Karma Yoga your relationship to work will never be the same.
Pratyahara
How can you become independent from mental disturbances? How can you remain cool in the intense situation? Through Pratyahara, you discover that there are actual things you can do, systematic practices that enable you to act from your own center, even in adverse conditions. Based on a precise knowledge of how the mind works, these methods teach you to work with the mind, rather than fight it.
Dharana
Strengthen your ability to focus and discover that concentration involves no effort, but that it is a relaxed state in which your attention remains easily fixed on an object of your choice for as long as you wish. This is the first step to become master of your mind.
Dhyana
To be aware and present is to experience life fully. This becomes possible through your work with meditation. There are as many meditation methods as there are temperaments, and they are available for any degree of experience or personal preference. In this retreat you will learn some very useful meditations that will make you more present and aware.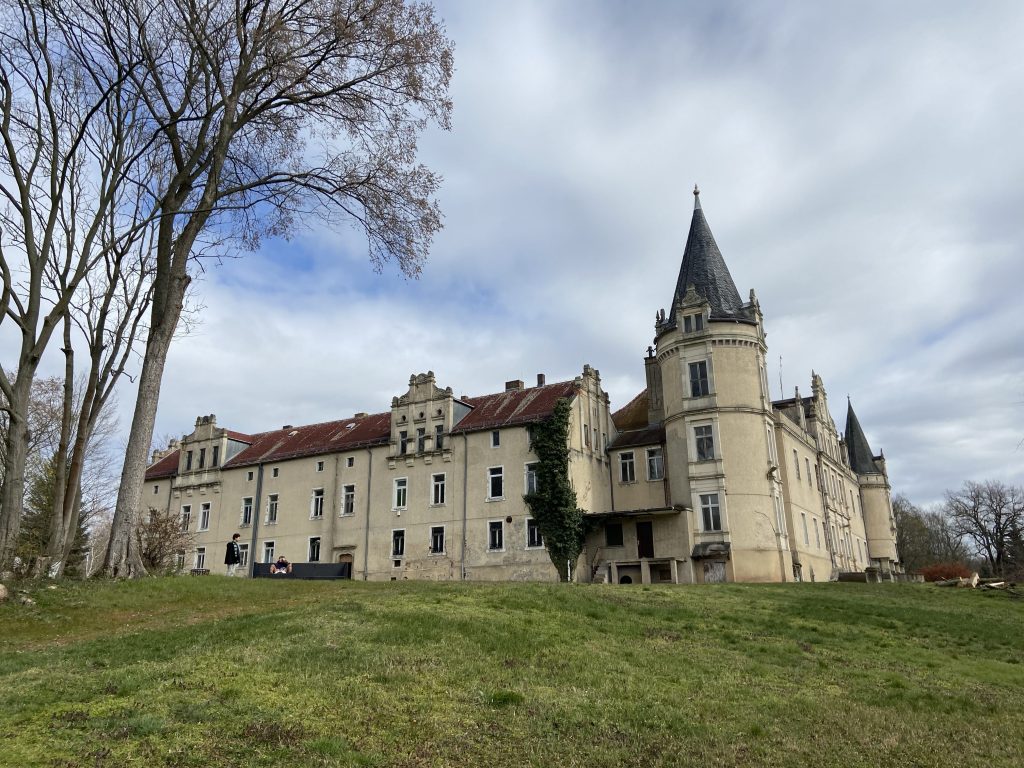 Burgkemnitz Castle
Location & ACcoMmodation
A mere 2.5 hours by train from Berlin, Burgkemnitz Castle is a relic of the 18th Century.  Built at the site of a 15th Century moated manor, it stands alone on the outskirts of the tiny village of Burgkemnitz.  The main castle is in poor state of repair and its currently being restored.  We will stay in a large annex of more recent appearance, with comfortable if rather basic rooms.
The castle has a generous park, which includes several ponds and gardens.  The nature around is gorgeous. During the free-time, you could go swimming at the nearby lake, or enjoy a walk in the dense forest.
Food will be provided by the unparalleled Fool of Many Passions, quartermaster, bleeding heart and stove master extraordinaire. You will be hard pressed to find better fare in the seven seas.
There will be two hearty vegetarian meals per day and sufficient snacks in between to satisfy the most ravenous appetite.
The Guide
Pipi Spielhand a.k.a. Pedro Aybar: Captain, writer, enfant terrible.  Received a 4-year residential education in classical tantra by Swami Janakananda Saraswati.  Trained with Andro, from the Diamond Lotus, in Sexual Tantra and Tantra Massage.  Developed Pirate Tantra to marry the white and red tantric traditions he studied and provide a more playful and accessible approach to the ancient methods.  Has been teaching the tantric methods for over a decade.
There is a community of the spirit.

Join it, and feel the delight

of walking in the noisy street

and being the noise.

—- Rumi.