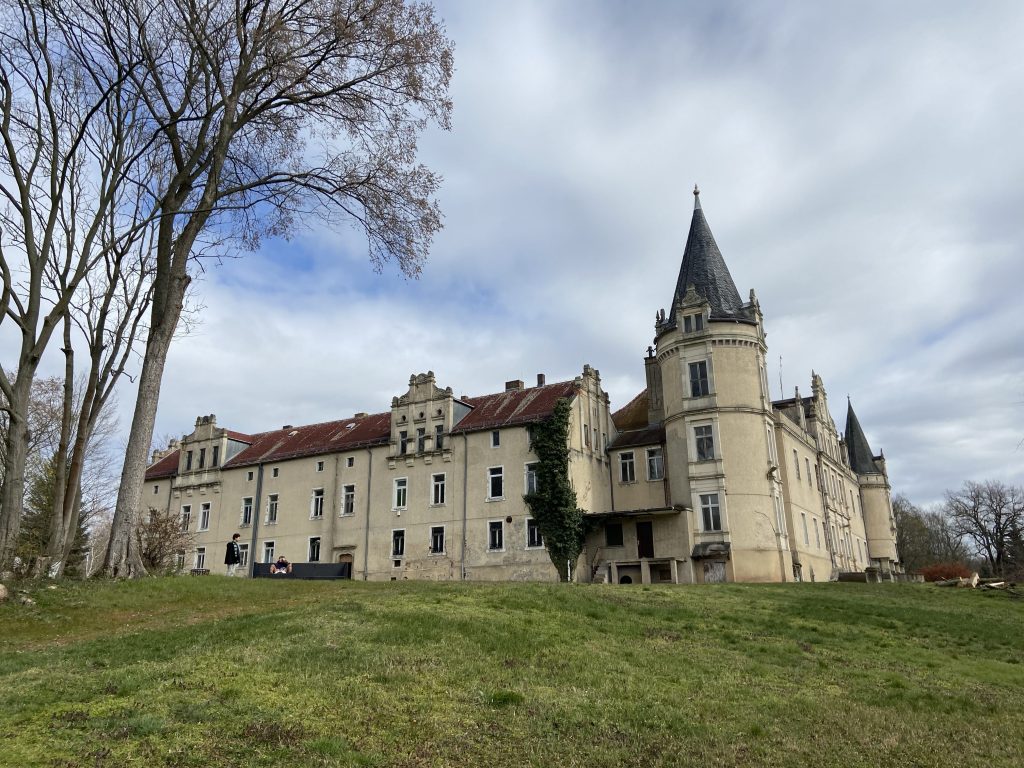 Burgkemnitz Castle
Seven intense days at a place of extraordinary beauty
… to get grounded with yoga, meditation and breathing exercises;
… to dive into our creative impulses and nourish our inner artist;
… to sensually connect with each other and the magical world around us.
The theme and focus of the week is Connecting with Nature
Spiritually, Ethically, Energetically, Sensually…
Burgkemnitz Park
The most effective yogic and tantric methods. Discover a yoga like none you have experienced. A yoga to get comfortable in your body, to open the senses, to activate your fine energies. Cleansing techniques, deep-reaching breathing, and subtle but powerful energy methods are as important as the poses.
Tantric Meditations for becoming relaxed and focused, for expanding your awareness, and for awakening and directing prana (chi) in your body. You will feel the effect of some of these meditations long after you've left the camp.

 

The Hero's Journey Psychodrama. Through meditative dance and performance, you will embody the archetypes of Joseph Campbell's Hero's Journey. You will discover that these archetypes are energies that exist within you; energies with which you will connect and reconcile.
Artistic Exploration. The afternoons are dedicated to art and creativity. We will playfully explore forms like drawing and painting, poetry, sculpture, mask-making, singing and performance. The art sessions will also be a possibility to go deeper in the discovery of your heroic archetypes.
Tantric Intimacy and Ritual. Each evening, we meet at the Temple to sensually connect with ourselves and each other. The context of a sacred tantric ritual provides a safe space for us to explore our desires, fears and longings. Only you decide how far you want to go in this journey.
Karma Yoga. Meditative work restoring the castle, helping in the kitchen or maintaining our collective spaces. You will discover an approach to work and physical activity that will enrichen your self-awareness and teach you to more effectively manage your energy.
Sacred Silence. The first hours of the day are experienced in total silence. From the moment you wake-up, you're participating in a ritual of presence and focus. The silence allows us to give a rest to the rational side of the brain, and keeps our interactions meaningful and profound.
Plus many little games, rituals and playful encounters.
Castle Burgkemnitz
ECOSENSUAL CREATIVE CAMP AUTUMN
26 September – 3 October
Burgkemnitz Castle, Saxon-Anhalt
650€ / 550€ before 3rd September
The price includes lodging in a shared double-room, two daily meals, snacks and tea.
To enrol, send us a love letter to  ahoy@thepiratetantrics.com
or click Hop on Board below and answer ECOLOVE to "Why do you care?"
Feel the Earth's pulse irresistibly pulling.
Smell your way through the damp soil.
This is the call of Nature. Is she mother or lover?
Hear the soft whisper of your secret muses.

Watch the vibrant colours of your lost selves.
Is there something else? Burst your heart in the sacred making.