RELAX AND EXPAND
A weekend retreat to discover Tantra
Fr. 17th – Mon 20th June 2022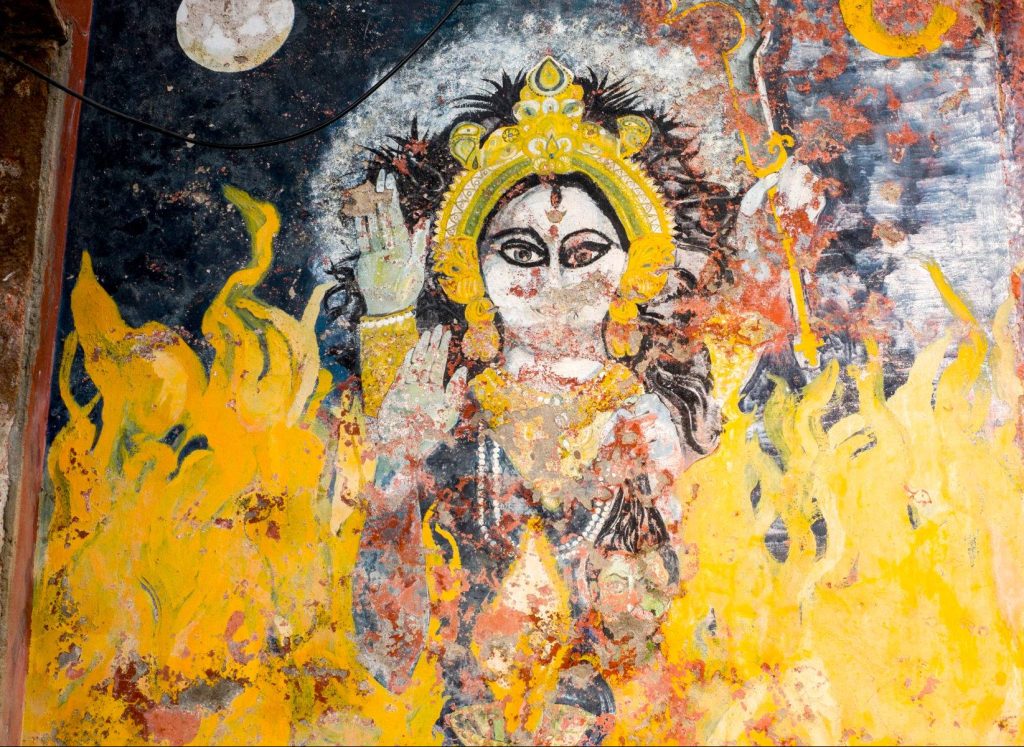 Shri Kali Ma
Synopsis
In mid June, the longest days of the year, we expand and deepen ourselves in the diversity of Tantric practice. Three days of intense exploration of different practices including asana, pranayama, energy work, intense concentration and deep relaxation.  We study the teachings of Kashmiri Shaivism, Advaita and the Vedas. We consecrate the Deva in the sacred rite of Kali Puja. See below for explanation.
You will go out of this retreat empowered and deeply touched, eager to keep expanding your understanding of what you are made of, and with effective tools to dig deeper.
Tantra is about nothing less than your absolute freedom.
Price: 330€, includes food, accommodation and practice.
Deep Concentration at the may retreat in Burgkemnitz.
WHO IS IT FOR?
This retreat is for people who are tired with the superficiality of modern spiritual teachings.
How many mediocre spiritual events have you attended, to just feel mildly entertained or even disappointed? Transformative practice requires intense dedication and commitment. This is your first step to learn the depth, with body, mind and heart.
If you want to move from a dull material experience into the magical world of spiritual transformation;
If you have been practicing conventional yoga and wish to get more out than a physical experience. Combine meditation, relaxation and even energy work into your Asana practice: The holistic path of traditional Yoga.
If you have been dabbling in neotantra and want to find-out how classical Tantra can truly expand your sexuality as well as your mind and your whole life;
If you have been learning isolated techniques here and there, and long for a comprehensive system that addresses the entire human frame;
If you are tired of new modalities and experimental approaches that may or may not work, and are ready for a time-tested path than has proven effective for thousands of people through the ages;
Then this retreat is for you!
The Pirates frolicking at a retreat in the Aegean Sea in 2018.
WHAT DO YOU GET FROM THIS RETREAT?
Change your life with an effective Sadhana that will carry you as far as you wish to go on the spiritual path.
Learn to elegantly dance with anything that life throws at you.
Grow self-love and self-acceptance.
Broaden your philosophical foundation of yoga and Tantra
Let go of many misconceptions about Tantra.
Become confident and self-reliant.
Develop clarity and laser-like focus.
Explode your physical and mental energy.
Get grounded, strong and directed.
Deepen your relationships and defeat social anxiety.
Expand your creativity.
Cultivate an enthusiastic and engaged attitude.
Turn any work you do into an uplifting experience.
Manage your moods and harmonise your emotions.
Improve your sex life.
Gain a deeper insight into yourself.
Strengthen your willpower.
Turn your life into a work of art.
In short, become the captain of the ship of your life.
The Methods you will learn in this retreat
Shatkarma
Remove impurities and bring balance to your body through the powerful cleansing methods of traditional yoga. Techniques that affect all the body's systems and kick-start their function. This is effectively a reset of your physical self.
Pranayama
Remove finer tensions and harmonise your nervous system. The yogic breathing exercises are a bridge between grosser and finer layers of your being; between body and mind. They make your clearer and mentally stronger, and allow you to discover and experience Prana, your life force.
Kundalini Yoga
What is usually called Kundalini Yoga was developed in the 1970s by a Sikh entrepreneur. It has nothing to do with the ancient Tantric science to awaken and control your life force and discover the chakra. Tantric Kundalini Yoga is an elegant and precise science that will impact all aspects of your life.
Tri Dosha Asana
The Tri-Dosha Balancing series from the Shri Kali Ashram is a very gentle, long and meditative class that teaches your whole body to meditate, to relax. Distinctly different from other styles like Vinyasa or Ashtanga, it guides you into a dreamlike state. The body relaxes while the mind becomes calm and blissful.
Satsang
Tantra is a science. We will speak about the metaphysics, the 36 Tattvas, the importance of mantra, the Tantric's understanding of a life's purpose or dharma and many more topics of practical interest. This gives you the foundation to not only feel but also understand why the spiritual path is so important and why we have chosen the tantric approach to spiritual growth.
Karma Yoga
The science of action. How to relate to work and productive activity so that it energises rather than depletes you? How to approach everything you do like a meditation and a process of self-knowledge. When you discover the secrets of Karma Yoga your relationship to work will never be the same.
Pratyahara
How can you become independent from mental disturbances? How can you remain cool in the intense situation? Through Pratyahara, you discover that there are actual things you can do, systematic practices that enable you to act from your own center, even in adverse conditions. Based on a precise knowledge of how the mind works, these methods teach you to work with the mind, rather than fight it.
Dharana
Strengthen your ability to focus and discover that concentration involves no effort, but that it is a relaxed state in which your attention remains easily fixed on an object of your choice for as long as you wish. This is the first step to become master of your mind.
Dhyana
To be aware and present is to experience life fully. This becomes possible through your work with meditation. There are as many meditation methods as there are temperaments, and they are available for any degree of experience or personal preference. In this retreat you will learn some very useful meditations that will make you more present and aware.
Kali Puja
The Sacred Rite of Puja as offered by the Shri Kali Ashram transforms you to touch your beauteous inner self. Through mantras and ritual offerings we celebrate our divine aspect and connect to a deeper reality of unity. Usually practiced in couples.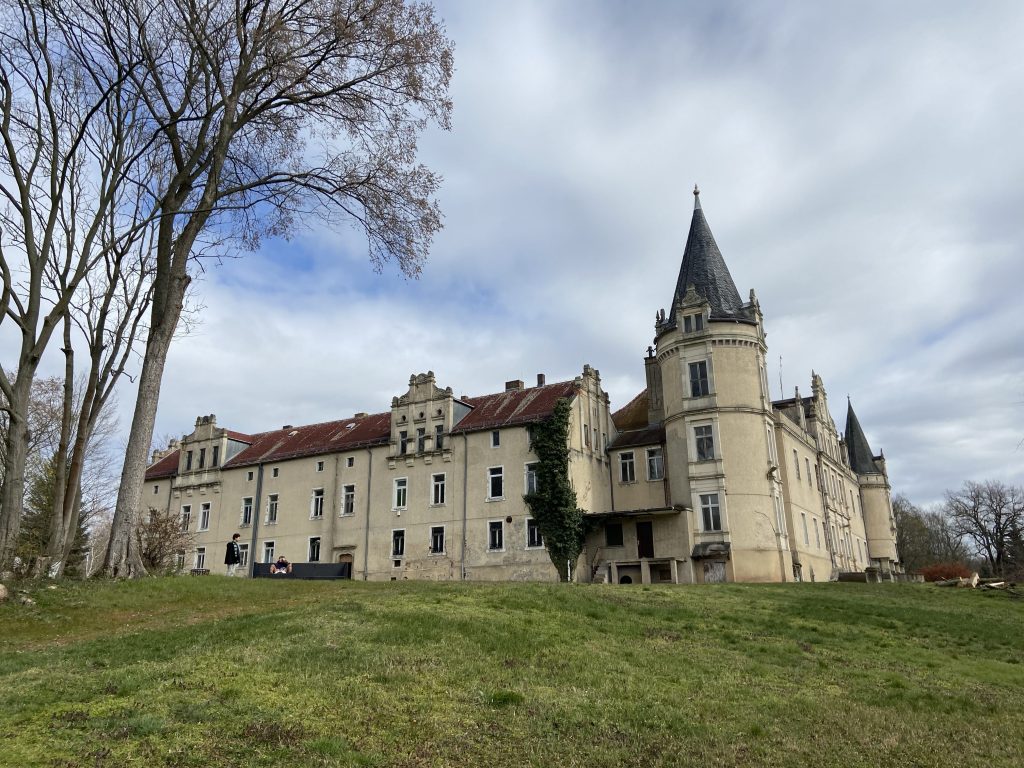 Burgkemnitz Castle
Location & ACcoMmodation
A mere 2.5 hours by train from Berlin, Burgkemnitz Castle is a relic of the 18th Century.  Built at the site of a 15th Century moated manor, it stands alone on the outskirts of the tiny village of Burgkemnitz.  The main castle is in poor state of repair and its currently being restored.  We will stay in a large annex of more recent appearance, with comfortable if rather basic rooms.
The castle has a generous park, which includes several ponds and gardens.  The nature around is gorgeous. During the free-time, you could go swimming at the nearby lake, or enjoy a walk in the dense forest.
Food will be provided by the unparalleled Fool of Many Passions, quartermaster, bleeding heart and stove master extraordinaire. You will be hard pressed to find better fare in the seven seas.
There will be two hearty vegetarian meals per day and sufficient snacks in between to satisfy the most ravenous appetite.
All rights reserved.
The Guides
Pipi Spielhand a.k.a. Pedro Aybar: Captain, writer, enfant terrible.  Received a 4-year residential education in classical tantra by Swami Janakananda Saraswati.  Trained with Andro, from the Diamond Lotus, in Sexual Tantra and Tantra Massage.  Developed Pirate Tantra to marry the white and red tantric traditions he studied and provide a more playful and accessible approach to the ancient methods.  Has been teaching the tantric methods for over a decade.
The Fool of Many Passions a.k.a. Ilya Shabanov: Quarter master, hopeless romantic and perpetual traveler. An ex entrepreneur who turned his life inside out to study Kashmiri Shivaism in the Shri Kali Ashram. The origin of the magical Tri Dosha Asana series and beginning point of the philosophical journey to the Pratybjnana or self recognition. The Fool has been with the Pirate Tantrics from their very conception many years ago.
Jñānam bandaḥ – ajñānam bandaḥ

—- Shiva Sutras
Knowing one's material self is bondage, not knowing one's spiritual self is bondage.