the dance between the worlds
A Samhain Celebration
To enrol,
send us a love letter to ahoy@thepiratetantrics.com
or
Scroll to the End, click on the Hop n Board button, and answer SAMHAIN to the question "Why do you care?"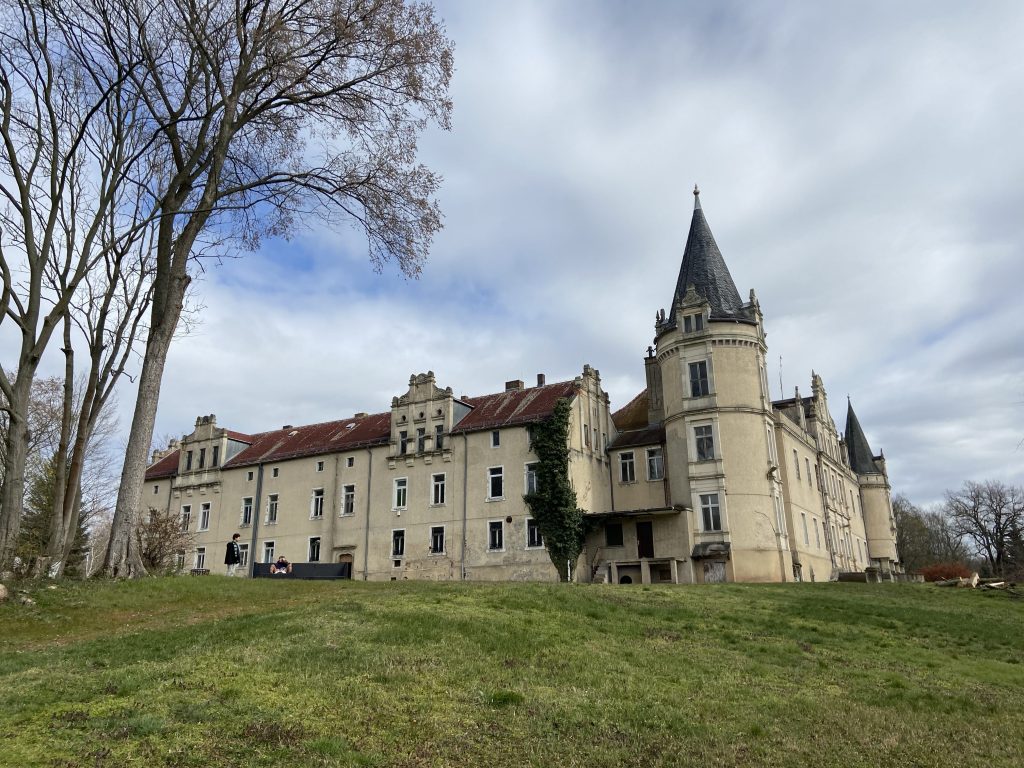 Burgkemnitz Castle
The Dance Between the Worlds
A Samhain Celebration
From 28th October to 1st November
You may also come from 29th to 31st October
Burgkemnitz Castle, Saxon-Anhalt
We meet at the start of the dark side of the year. We meet in CONNECTION AND CELEBRATION. We meet with the shared curiosity to go on a mysterious adventure.
A dozen comrades have put their heads, hearts and hips together to organise a Samhain Celebration like no other:
A CIRCLE OF CONSCIOUS PEOPLE, gathering in a more playful and imaginative way.
An ENGAGING COLLECTIVE STORY unfolding in a magical interactive world.
YOU ARE THE PROTAGONIST of this story: Actor and Audience at once.
We invite you to come as THE HERO OF YOUR OWN LIFE, and delve with us in the archetypal story:
The Hero's Death, Journey to the Underworld and Rebirth.
We will enact this story in SYMBOLIC RITUALS AND MEDITATIONS that invite us to reflect on our own constant process of change, and our power to decide the direction of this change.
Optionally, you can also join us on the creation of A SACRED AND MAGICAL SPACE, deliberately imbued with possibility and wonder.
For many centuries, the time of Samhain has been experienced as A TIME OF HEIGHTENED POSSIBILITY. An auspicious moment for inner and magical work, when the veil between the spirit and physical worlds is thinnest.
We come to this gathering with INCREASED AWARENESS AND OPEN HEARTS. With curiosity and joy.
We come to this gathering as brothers and sisters in a frame of TOLERANCE, RESPECT, AND SELF-RESPONSIBILITY.
WHAT DOES IT LOOK LIKE?
25-30 people meet at A RUNDOWN CASTLE with a huge garden and a pond. There we spend three to five days celebrating the changing of the seasons and taking a break from the duties of daily life.
We do yoga and meditation; join in workshops, rituals and games, including two sweat lodge ceremonies and some surprising and unexpected experiences.
The gathering is an immersive process, woven together by three interconnected elements:
1. THE STORY
From the Corn Mother to Jesus, many a brave Hero has had to die, to travel to that mysterious land beyond, and be reborn to share with the world the gift of their perilous journey.
This story will play through our celebration and be echoed in the group experiences. It will be underlined by climatic Death and Rebirth rituals on Saturday and Sunday.
2. THE GAME
During the gathering we will play The Hero's Game. That means you will play the role of your HEROIC SELF, the person you aspire to be. (We will send you an optional guided meditation, to connect to your own Heroic Self).
From the opening to the closing ceremonies, you will be addressed by your HERO'S NAME, the name you choose to represent to that hero you decide to bring into the world. This name will remind you each time of the qualities you wish to cultivate.
Please note that none of this is meant to be too serious! Think of a costume party…
3. THE WORLD
We have designed a magical interactive space in and around the castle, dotted with little Experience Windows. These are portals to inner spaces of self-reflection and inquiry, or to outer worlds of connection and catharsis.
If you feel inspired, you can also help us create this world during the early part of the gathering. Visual artists and spatially curious people, ahoy!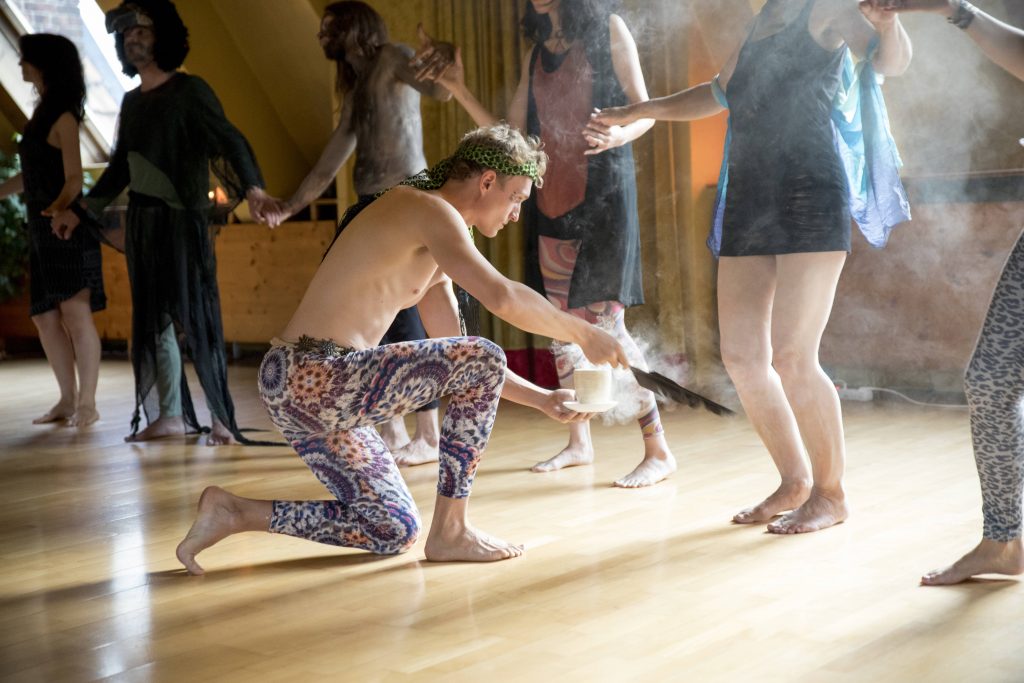 THE PROGRAM
You are welcome to arrive from Thursday 15h till Friday 19h, when the gates close.
The closing ceremony is on Sunday evening, and we will have integration and goodbyes on Monday morning.
Additionally to the frame below, there will be daily yoga and meditation, two sweat lodge ceremonies and lots of groovy sharings.
THURSDAY
– 15h: START ARRIVING
– Settle-In. Start connecting to your Heroic Self
– Small circles and experiences. – Connection games. Music.
– Evening: Big Circle by the Fire
FRIDAY
– (People continue arriving.)
– Small Connection Circles. Massage Exchange. Contact Dance.
– Discovering the Experience Windows
– Late Afternoon: Big Circle
– 17h: EVERYBODY IS THERE. GATES ARE CLOSED
– Evening: OPENING CEREMONY: Stepping into our Heroic Self
SATURDAY
– CONNECTING WITH THE WORLD: Life before death.
Rituals, workshops and experiences that invite us to fully be with each other and the world around us. Using our senses, being curious, exploring and discovering.
– Late Afternoon: DEATH RITUAL
The symbolic demise of our old self.
– Evening: CONNECTING WITH SELF: Life between the worlds.
Silent period of introspection and self-connection. The Underworld of the Hero's journey is symbolic of the Self, and here we are encouraged to look at the inner landscapes without analysis or judgement. We witness ourselves lovingly.
SUNDAY
– Early Morning CONNECTING WITH SELF: Life between the worlds.
We continue our self-inquiry in a more playful, yet reverential way, with a silent walk into the open spaces, where we will imagine ourselves an integral part of the whole cosmos.
– Mid-Morning: REBIRTH RITUAL
Becoming babies again, in a fresh world.
– Noontime: COMMUNAL CELEBRATION: Life anew.
We spend the rest of the day in joyful celebration of all that we are and all that we have been. This is the time for gratitude and cultivating the awareness of the great gifts we all share.
– Early Evening: CLOSING CEREMONY: Returning to our daily self.
– Now the story is over and we take these last moments to return to our real names. This gives us a chance to meet everybody afresh.
– From this point some of you might choose to start leaving. But for the rest, there is still programs till Monday midday.
– Evening: Big Fire Circle. Start of Integration and meeting outside the hero's role.
MONDAY
– Morning: Integration, and being my normal daily self
– Restoring the world to its previous state
– Goodbye moments. Last experiences.
– Midday: Big Goodbye Circle, for whoever is still there.
– You might be welcomed to stay at the castle for a few more days, in exchange for some Karma Yoga. Ask in advance.
PRACTICAL DETAILS
SINGLE PRICE: 180€
The price is irrespective of how long you stay. It includes:
– lodging in shared rooms or dorms,
– access to all events and workshops, and
– two daily meals.
THE PLACE: Burgkemnitz Castle is an old semi-derelict castle about two hours from Berlin. The accommodations are basic, yet decent. The grounds are large and exciting. The nearby nature is gifted with dark forrest to get lost in, cool lakes to revive yourself, and expansive meadows to soothe your gaze.
* This is a child-friendly, substance-free event.
* You must bring your own bedclothes, blanket and a yoga mat.
* Camping in the grounds is possible.
THE DANCE BETWEEN THE WORLDS
A SAMHAIN Celebration
28 October – 1 November
Burgkemnitz Castle, Saxon-Anhalt
PRICE: 180€
Includes accommodation, two daily meals, and all activities.
To enrol,
send us a love letter to  ahoy@thepiratetantrics.com
or
click on Hop n Board below and answer SAMHAIN to the question "Why do you care?"
There is a community of the spirit.

Join it, and feel the delight

of walking in the noisy street

and being the noise.

—- Rumi.